Exceed customer expectations with
managed Wi-Fi solution​
QuantWifi is a Wi-Fi link performance monitoring and reporting service. With QuantWifi, you can identify customer experience disruptions, report back to call center and increase customer satisfaction.
Schedule a no-commitment guided demo session with us.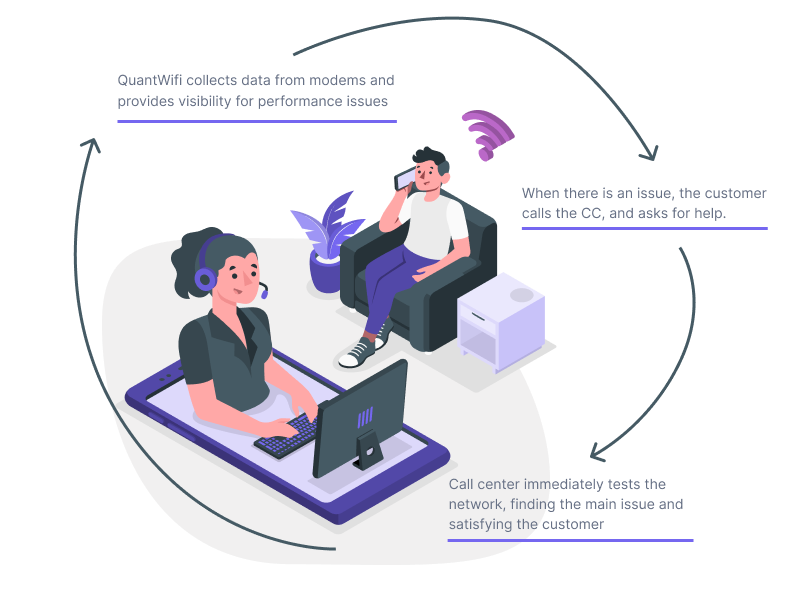 Operators are Wi-Fi blind.
We help them to see the bigger picture.​
ISPs cannot see beyond the modem
Most of the ISPs can only monitor the broadband connectivity to the home, but not the Wi-Fi network at home.
60% of customer calls are Wi-Fi related
Customer call costs due to Wi-Fi issues has a surge in the last 2 years, costing USD 4B+ in 2022 alone.
75% of support calls end in truck rolls
Customer calls due to Wi-Fi issues surged by 160% and more than 3/4 of the calls end in a truck roll.
We provide necessary software and services to help you
win the customer​
More than 4.500.000 homes are powered by QuantWifi to improve operational efficiency, decrease support calls and eliminate unnecessary site visits.
Build loyalty, exceed customer expectations and increase trust using QuantWifi's Wi-Fi connectivity insights platform.
Act immediately when the customer calls. Proactively detect and fix any issues during customer service process.
FIND ISSUES BEFORE THEY HAPPEN
Analyze modem data and predict potential issues and upsell opportunities using state-of-the-art technologies.
Increase per customer revenue by providing your users a list of upgrade options by looking at their usage characteristics and local network capabilities.
KEEP THE END USER IN THE LOOP
Unique benefits for operators
An access point with QuantWifi agent acts as a data source. QuantWifi works with many modem vendors and compatible with almost all Wi-Fi chipset vendors worldwide.
Collected data is stored and analyzed. Predictive analytics is run on the data to extract meaningful information from your devices.
3. Fix issues before users complain
As data starts flowing, QuantWifi provides Wi-Fi analytics. Administrators and contact center workers check data and take necessary actions.
Industry leading solution
powered by QuantWifi's Wi-Fi monitoring and analytics solution
coverage of world's leading chipset manufacturers
data collection frequency (can also be real-time with diagnostic mode)
"We are very excited to expand our collaboration with Türk Telekom with Dual-Band VDSL Gateway after provisioning Türk Telekom with Home Gateway. This new platform's wireless performance is fully managed by QuantWiFi, as a demonstration of our continuing commitment to the quality and reliability of our products and services.
Chang-Ching Wu
Vice President of Sales and Marketing
EcoNet
"We, as Türk Telekom, proud to be part of collaboration with EcoNet, MediaTek, and QuantWiFi. This collaboration proves that Türk Telekom is fully committed to provide best solution for our subscribers at best performance."
Consumer Device and Device Management Systems
Türk Telekom
What is QuantWiFi?
QuantWifi is a real-time analytics based platform to monitor, analyze and improve the quality of experience of WiFi customers.
What are the unique benefits of QuantWifi?
One of the biggest causes of customer churn is a low quality of experience brought on by outages and service deterioration. With the help of QuantWifi real-time detection tools, operators can easily see issues and take action before customers even become aware of them, significantly improving quality of service.
Does QuantWifi provide cloud services?
QuantWifi platform can either be deployed on premises where the customer maintains the service, or on a cloud service provider where QuantWifi manages, monitors and updates the service.
How long does it take to implement?
A typical QuantWifi PoC implementation takes 15-30 days on cloud. Each QuantWifi customer will have access to a delivery manager who will guide you through the deployment.
Is it possible to do remote testing?
Yes. QuantWifi can do remote testing with a modem of your choice. This allows call center agents do a quick testing before understanding the nature of the problem.
What device types does QuantWifi run on?
QuantWifi works with a wide variety of device vendors (Zyxel, ZTE, TP-Link and Vestel) and chipset vendors (MediaTek and Broadcom).